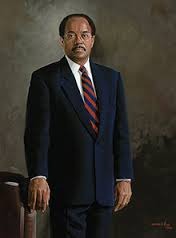 Got a call yesterday about the passing of Congressman William H. Gray, 3rd...an amazing leader, preacher, master politician and pillar in the community.  In Congress, Bill Gray rose to become Majority Whip of the House of Representatives, the first African American in the 20th century to assume that leadership post.  He served as chair of the powerful Budget Committee, was a member of the House Appropriations Subcommittee on Transportation and Foreign Operations, and he was the leader of Philadelphia's prestigious Bright Hope Baptist Church.  He left Congress to run the United Negro College Fund (UNCF), where he raised MILLIONS of dollars to educate black youth.  We have all been touched in some way by his work and benefit from his legacy.
The day before Rep. Gray passed away, I was at a BBQ chatting with his daughter-in-law about his trip to London with his sons to see Wimbledon. He was an avid tennis player and fan. I was watching my daughter play in the pool with his grandchildren, thinking of how it was a full circle moment for me. On Monday, I was told he passed away while in London. My heart sank.
Being a political animal, Washington, D.C. was mecca for me.  I was hired by Rep. Gray as a staff attorney...but a few days later the stock market crashed and the government implemented "freeze" prevented me from joining his staff.  I was told to wait it out...but student loans and my desire to eat won out. and fortunately,  I was hired by Hubert Williams at the Police Foundation.
There will always be a special place in my heart for Rep. Bill Gray...just as there is for Hubert Williams.  Two trailblazers who gave someone fresh out of law school a shot at making a difference and having a better life.  That being said, I'm sending prayers to the Gray family, members of Bright Hope Baptist Church, the city of Philadelphia and to all who loved him.  Another Hero has fallen...a humanitarian who cared about his people...all people.  I salute you Sir and am eternally grateful for your presence and work on the planet...we are better because you were here.  THANK YOU, SIR.